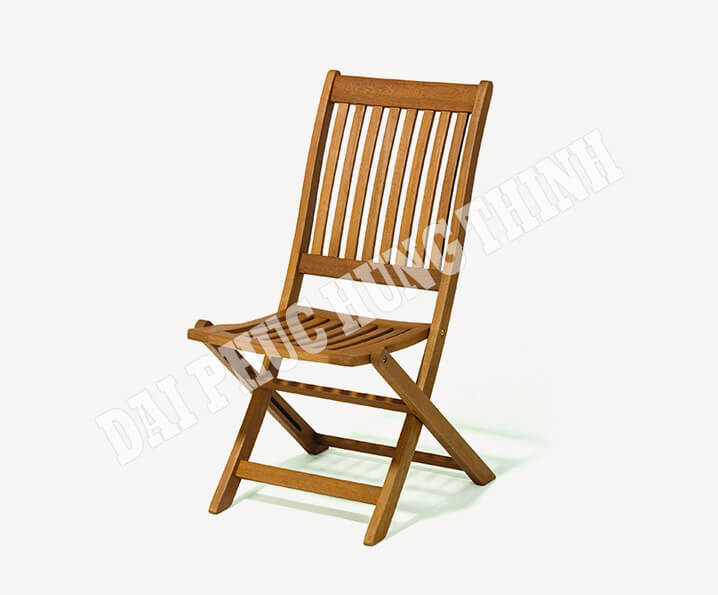 Art No. 54307
Cardiff foldable chair
Dimension:

59 x 48 x 92cm

Material:

FSC 100% Eucalyptus / Acacia wood

Weight:

6.4kgs

Finishing:

Oiled

Loading:

420pcs/1x20' ; 920pcs/1x40' ; 1060pcs/1x40'HC

Price:

Please contact

Description:

Discover the Cardiff Foldable Chair, a versatile outdoor chair that epitomizes the refined simplicity of Vietnam outdoor furniture. Constructed from 100% FSC certified Acacia or Eucalyptus wood, this chair is a light yet robust addition to any outdoor space, weighing just 6.4kg for ease of arrangement and storage. Each Cardiff Chair is designed with eight vertical slats on the backrest, providing essential support and a visually pleasing linearity that enhances any setting. The seat mirrors this slatted design, ensuring comfort and breathability during those long, leisurely sits in the sun. Not just a functional piece, the Cardiff Foldable Chair stands as a testament to the quality of Vietnamese craftsmanship, combining practicality with the natural beauty of sustainably sourced wood. Whether for a bustling café terrace or a quiet backyard retreat, this outdoor chair offers the durability and elegance suited to a variety of environments. Elevate your outdoor dining experience with a touch of Vietnamese heritage—the Cardiff Foldable Chair is not just seating, it's a statement in sustainable design. Ready to source this product from a trusted Vietnam outdoor furniture supplier with 29 years of experience? Reach out to us at daiphuchungthinh@daiphuchungthinh.com.vn or sales@daiphuchungthinh.com.vn and embrace the essence of outdoor comfort today!